Major Changes to the 2022 Prohibited List: What you need to know
The World Anti-Doping Agency (WADA) has recently released the 2022 List of Prohibited Substances and Methods, which are banned from use within sport. Broken down into several categories, the List identifies which substances and methods are prohibited at all times, in-competition only, and within specific sports.
Following an extensive consultation period by WADA, the 2022 WADA Prohibited List was published on 1 October 2021. This gives athletes and their support personnel sufficient time to make themselves aware of the changes, review any medications they use, and apply for a Therapeutic Use Exemption (TUE) if required before the updated List comes into effect on 01 January 2022.
The Major Changes
S0. Non-approved Substances
BPC-157
Body Protecting Compound-157 (BPC-157) has now been listed as a prohibited substance. Athletes should remain vigilant for any supplements that market BPC-157 as it is not approved for human consumption.
S3. Beta-2 Agonists
Salbutamol
The daily dosing time intervals of inhaled salbutamol have been modified. Permitted doses of salbutamol will now be 600 micrograms over any 8-hour period.
The total permitted daily dose (1,600 micrograms over 24-hours) remains unchanged. If an athlete exceeds the permitted doses, a TUE will be required.
S9. Glucocorticoids
Local injections have been added as prohibited routes of administration in-competition.
For clarification:
oral, rectal, intramuscular and intravenous routes remain prohibited

inhaled, intranasal, and dermal routes remain permitted
For more information on how to comply with the new glucocorticoid regulations, please refer to our Glucocorticoid TUE Policy and Frequently Asked Questions document. These can be found in the Special Topics section of our Medicine Hub.
Additional Examples:
Further examples of prohibited substances have been added to various categories of the 2022 Prohibited List. Please note, these are not new substances being added to the 2022 List for the first time but additional examples of substances that are already prohibited.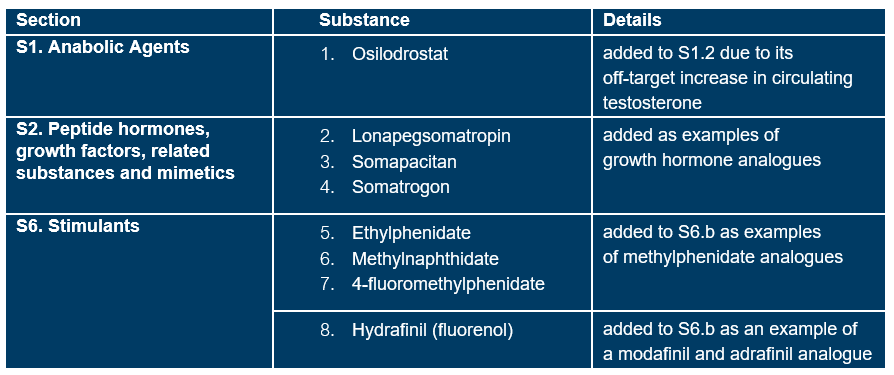 For further information on the full list of modifications please consult the WADA 2022 Prohibited List and the Summary of Major Modifications and Explanatory Notes. 
WADA has also produced a 2022 Monitoring Programme which lists substances (not on the Prohibited List) that are currently being monitored for potential misuse by WADA.